Ben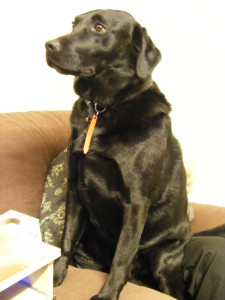 Ben and my dad is behind him somewhere 🙂
Ben died at the Vets in my arms around 5:30pm on Tuesday the 11th April 2017. He was 10 years old.
He had been diagnosed as diabetic and his glucose levels were being adjusted via insulin. However it was not the Diabetes that killed him. He had a neurological problem which caused him to lose the use of his back legs and he was in a lot of pain. The Neurological problem was unlikely to be cured and I didn't want him suffering unduly. I will always miss him.
Ben's death was very hard on me and I thought that the site would no longer be updated.
Ben is a tough act to follow and I did not want another dog, but when you have been around dogs all your life, The house and your life seems empty without a doggy companion.
No dog can replace any of my past Dogs. They were all unique and had their own personalities and characters, all were part of and still are part of my pack and so it will become with the new arrival who is joining our pack imminently. Her name is Lilly and you can find out about her on her own page. Which I am working on atm.
I am glad Ben is out of pain and I did everything I could for him, Unfortunately I just was not enough, his time had come and I could not keep him in pain if there was not a reasonable chance of a positive outcome for him. He endured pain for only as long as it was clear he was not going to get better.
Ben shown above sitting on my late father was for the last 10 years the last caretaker for the walkies site. He had just one idiosyncrasy which irritated us, but it was worse for him. He was terrified of high winds and the sound of winds coming down the chimney really scare him.
As we live quite high up we do tend to get good radio (http://2eosvt.net) but also the higher winds and Poor Ben just didn't know what to do with himself in windy conditions. He kept trying to dig himself into a corner.
He has though seen of potential intruders empty handed in the past and he would bark at anything he though was not the norm and most of the time he was correct.. for example a window cleaner up a ladder cleaning neighbours windows. :D. Which is of course what we wanted him to do.
He didn't accept everyone straight away. Sometimes he had to get to know people first and other times he accepted people straight away. There are people though he clearly didn't like and he kept well out of their way and grumbled in their presence.
If Ben liked you you couldn't have a more faithful companion. But people needed to earn his trust.
The Vet, well he went to the vets and came out minus his manhood and it seems he was not for many years prepared to forgive that. Which made our trips to the Vet interesting. Apart from in his last few weeks when he seemed to realise that  the vet and indeed myself were trying our best to help him and he was getting treatment which made him feel a bit better at least.  Of course in those earlier years his Doggy companion Ebony (More on her later) went with him to the vet's, but only he came home with us. So he seemed to be somewhat distrustful of vets. This of course changed when he realised the vets were trying to help him, particularly in the last weeks of his life.
But he has chased of potential burglars from our property more than once and in the processes one of these potential  burglars almost had kittens.
I have never seen anyone clear a 6ft fence in one bound before it was very entertaining. would have been even more entertaining if the idiot had fallen over. I would have no sympathy for him either and would have happily applauded him while saying four faults
Ben was I would say more my dog that Julia's, but he was very faithful to us both. He knew I was not in the best of health and he was always there with me keeping an eye on me. It seemed very strange when I looked round expecting to see him, but he was gone. I will always miss him he was my best faithful friend for the last 10 years. A friend I could always rely on no matter what. I trusted him more than I trust most people. And this is thje way I will always remember him a faithful best friend. Of course I am sad he is gone and I regret we could not save him, but he is at least out of pain now.
I was asked if I wanted his ashes and I said no. I want to remember him as he was during his active years and his ashes are not him any-more, they are the remains of an empty shell that was occupied by my best friend Ben.
This is a video that has just come to light of Ben having a dog nap
Steve
---